Tokyo is one of the most vibrant cities; you can find everything from exclusive clubs, and fine dining, to all-night karaoke. There is always something to look forward to after sunset. You can start your evening at a themed restaurant in Shibuya, explore some seasonal cocktails at the mixology bars in Roppongi, dance in a hip hop club at Shinjuku, and sing to the beats of the most famous DJs on earth at an exquisite nightclub near Karaoke Kan. If you are not drinking, there are plenty of sightseeing spots to chill out with family and friends. Here is a breakdown of places to see and activities to do in a city which never sleeps.
1. Tokyo Tower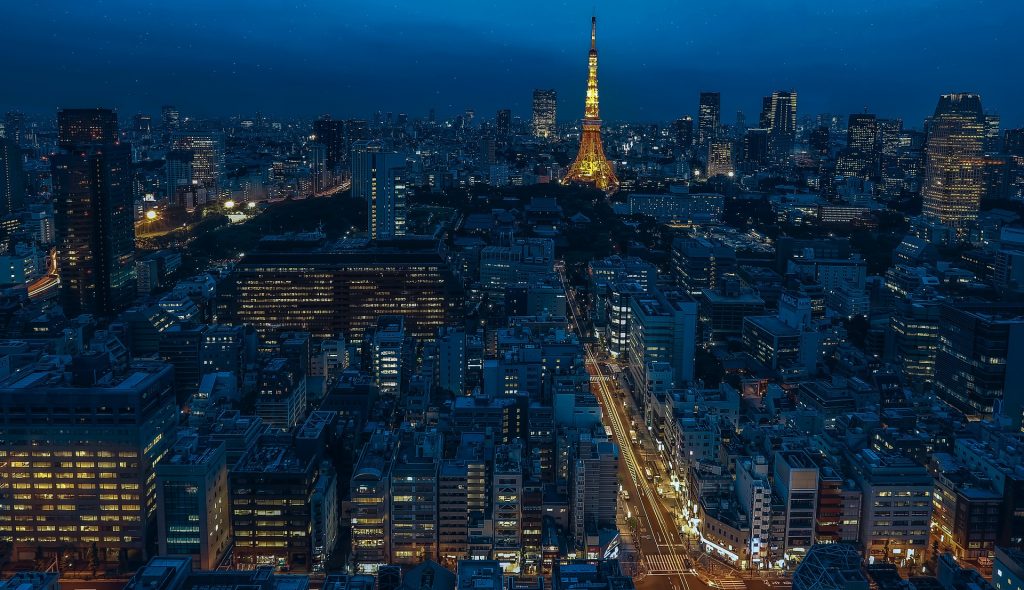 This building was constructed in 1958, just when the capital city began to boom economically. It is actually one of the most sought-after sightseeing attractions by visitors from across the globe. Being the second tallest building in Japan and an important symbol of the country, Tokyo Tower offers a remarkable viewpoint for the entire city. Numerous tourist spots surround Tokyo Tower, so you can try more activities other than watching the capital from above.
One of the most popular aquariums on the planet is located in Tokyo Tower. It houses over 900 species and a population of more than 50000 fish in a 500 square metre glass tank. The Tokyo Tower Aquarium occupies an area of 825 square metres. This is the best place to enjoy calming music while watching the beautiful sea life in different colours and sizes.
2. Golden Gai in Shinjuku
Located at a midpoint of the commercial district, Shinjuku, Golden Gai is also referred to as the Golden Street. It is popular with tourists from the USA, Europe, Russia, and other parts of the world. If you have always wanted to feel the atmosphere of the Japanese Showa period and the post-war black market, Golden Gai is the place to be. Take a trip back in time along Shinjuku's narrow back streets as you explore over 200 bars and restaurants.
Discover several hole-in-the-wall spots in Golden Gai which are mainly known to the locals. Small shops are lined up along the alleys with dim neon lights which create a nostalgic ambience. In this busy business area, you will find shopping centres for youngsters as well as pleasure spots for cabarets and clubs.
3. Kabukicho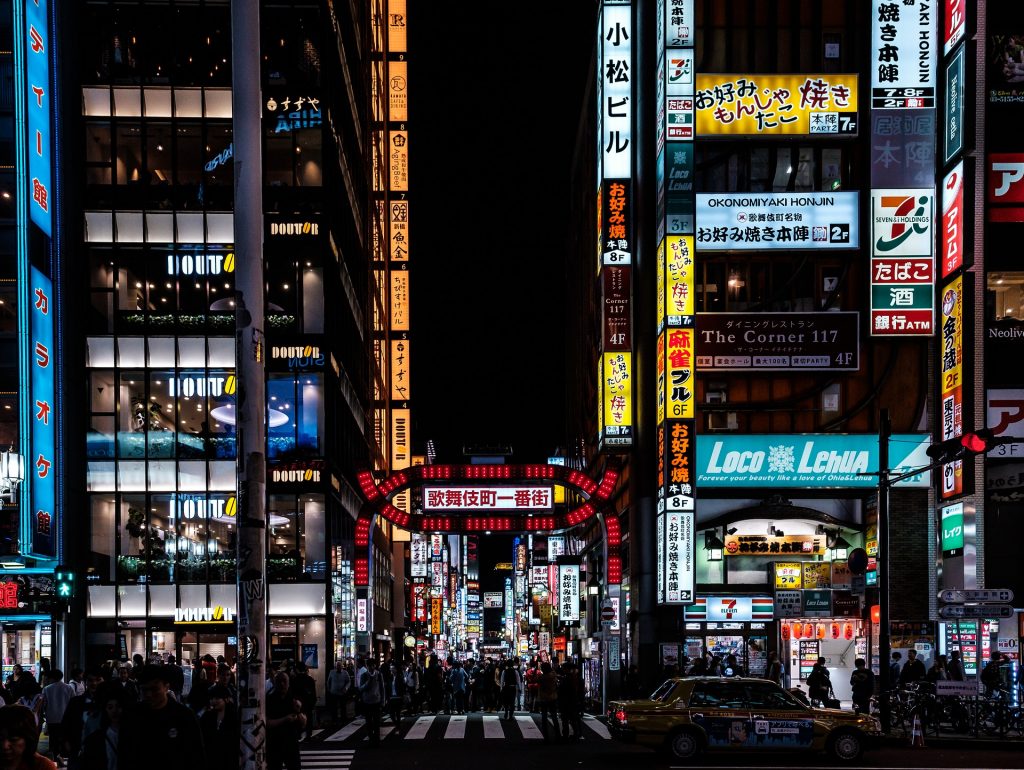 Kabukicho is the largest entertainment centre in East Asia, characterised by its notorious red lights. The red-light district gained notoriety around 2009 when a gang known as Yakuza invaded the area. But today, the place is very safe, and tourists have nothing to fear. Home to numerous nightclubs, restaurants, host and hostess bars, Kabukicho is a sleepless area. It is always bustling with activity seven days a week. Apart from clubbing, the coolest thing to do in Kabukicho is night photography. Because the district gets more active and brighter at night, you can make long-lasting memories by visiting some photo-worthy spots. Capture your best moments in Tokyo with colourful neon lights with the help of a professional photographer.
4. Robot Restaurant
The Robot Restaurant is considered the craziest dining spot in the world. Situated at the heart of Shinjuku, and worth billions, the Robot Restaurant is the perfect spot to experience an only-in-Japan form of entertainment. Think of any Japanese motif and you are sure to find it here. The decor is amplified in different lights and colours. Coming along with the robot-themed environment is an extra dose of Hollywood music. Expect to see eccentric robotic shows by dancers, ninja fighters, tanks, and giant pandas etc. The shows, which are suitable for all generations and international tourists, run three or four times every day.
5. Karaoke Kan
Japanese singers have a history of entertaining guests with music all night long. That is how karaoke was born, a term which carries two Japanese words; kara oukesutora (empty and orchestra). Literally, karaoke in Japan means a musical track without words. It is mostly practised by artists who lack a complete cast of music performers. Traditionally, Japan has a love for innovation and entertainment, and Karaoke Kan is one of the top 10 night spots in Tokyo, featuring a chain of brilliant nightclubs, some of which run dusk to dawn. Karaoke Kan has everything you want, whether it is a club for a crazy night out or a laid-back bar to enjoy new music. With a wide array of rooms and VIP lounges, Karaoke Kan accommodates everyone from expatriates, businessmen, university students, to travel groups.
6. Shibuya
Falling under the top 10 night spots in Tokyo, Shibuya makes an excellent place for young people. It is less populated than Kabukicho, highly accessible, and a safe place for international tourists. Find a broad selection of entertainment clubs, bars and restaurants that will keep you awake until six am. One of the leading clubs in Shibuya is Atom Tokyo which is famous for its casual dress code, particularly with the youngsters and tourists from the western world. Covering a total of three floors, and with a capacity of more than 1500, every store offers a unique atmosphere and experience.
Also well-known in Shibuya is Love Hotel Hill, which is basically a line-up of love hotels. The nearby shops usually stay open late at night so you can always catch up with late night shopping. There are also a lot of themed restaurants in Shibuya including an Alice in Wonderland café.
7. Roppongi
Roppongi is arguably the most popular nightlife district in Tokyo, packed with clubs and bars to the brim. It has been a favourite hangout spot for Allied forces since the post-war period. Today Roppongi attracts a significant number of Japanese salary-men, ex-pats, European, and American tourists. The cost of living in this place is higher than average, partly because of the high number of tourists which flock here. Check out western-style clubs, jazz spots, upscale bars and dive bars along the sophisticated streets. The place is always crowded on weekends with a significant number of touts and can get louder at night.
At the centre of Roppongi is Sel Octagon Tokyo, a five-minute walk from Roppongi Station. It brings a new innovative experience, fusing entertainment from techno and EDM DJs plus top dance crews. The interior part of the Sel Octagon Tokyo welcomes you to the Gallery Bar where celebrities converge in the VIP areas, and seasonal art is exhibited. Enjoy ultrasonic 3D sound effects and a massive selection of lasers in the Japanese club. Technology in this spot is simply on another level as the authentication process uses the vein recognition system. Entry is free, and you don't need any identification documents.
8. Ginza
This is another upscale district presenting some of the most luxurious products in the world. For high-fashion shopping of the most recognizable brands, Ginza is a perfect destination. After dusk, the district changes into a premium entertainment centre with an assembly of self-indulgent restaurants. It is where to find the best sushi shops in Tokyo. Opulent nightclubs and chic bars are not left behind either. If you are a fan of whiskey tasting, Ginza will satisfy your thirst. Much of the entertainment in Ginza is secluded on upper floors of buildings you would never think of. What you see initially is just the start. The real fun lies in nondescript establishments. Get ready to pay massive bills if you want to enjoy exclusive spots.
For the ultimate clubbing experience, visit Genius club where the most affluent personalities come to have fun. For a casual atmosphere, check out Star Bar and several other cocktail bars. A handful of hip, artsy bars in Ginza are available for tourists who are on a budget.
9. Tokyo Dome
Tokyo Dome is the largest baseball stadium in Japan with an air-supported dome and revolving-door entryways. Baseball, a popular sport in the country, is held regularly. Home to renowned teams such as Yomiuri Giants, Tokyo Dome hosts the world's greatest baseball matches. The regular baseball season begins in March while the professional season starts in October. The stadium is crowded whenever there's a match, so it is good to check the schedule. To enjoy baseball in modern Japanese culture, buy tickets in advance. You might also be lucky to get a standing seat with the same-day ticket. Passionate fans will be singing, accompanied by a cheering squad as they wave colourful towels and flags. Soon, you start feeling the rhythm and have a good time. If you want to dine at Tokyo Dome, there are various options available with limited-edition cuisine and souvenirs.
10. Samurai Museum
The Samurai Museum packs plenty of attractions. It has been a symbol of power, masculinity, and courage for almost a century. Feel the gripping spirit of the Samurai on two floors featuring an elegant atmosphere of historical Japan in the Sengoku era. It took Tetsuro Koyano, the founder, five years of hard work to collect swords, headgear, samurai costumes, and guns. He aimed to introduce all-encompassing knowledge regarding Japanese warfare to both natives and foreigners. Everything at the Samurai Museum is all about reviving the samurai's soul. Don't miss a chance to take a picture in samurai costume with the full gear, head to foot. If you are lucky, you get a face to face encounter with a Japanese celebrity.
The Takeaway
Do you want to party till dawn or prefer a more chilled night experience in Tokyo? In a massive metropolis such as Tokyo, there are countless options and trying to pick a few can be very confusing, especially during your first time in Japan. It is even more daunting if you don't understand the Japanese language and culture. That is why this guide has put together the best nightlife activities at top-rated spots in Tokyo. This should inspire you to venture into this neon-filled capital city.
The above spots are especially crowded during the holidays, so you might want to take private car tours instead of public transport. Experience the wonders of the city and different cultural activities. The list of fun events which can make your trip memorable is endless. Discover for yourself the exact features that make the nightlife in Tokyo one of the most talked-about in the whole world.